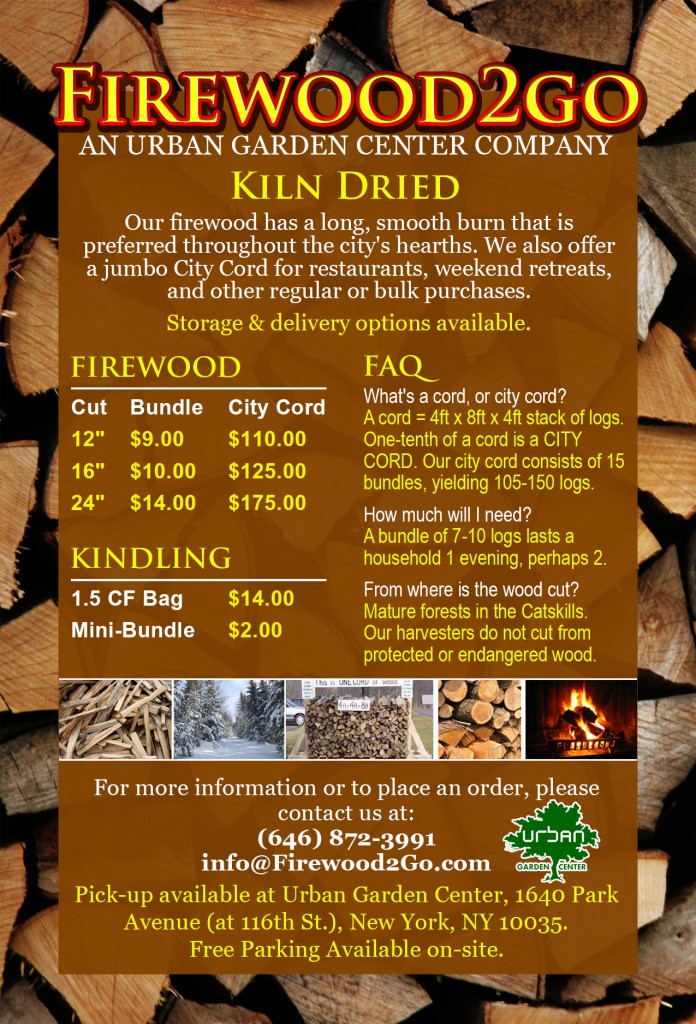 Firewood for sale in NYC.  All of our wood is kiln dried as is required by NYS Law.  We only use hardwood from Upstate New York .  It comes in different sizes like 12″, 16″ and 24″.  We sell kindling too.  
You can order by the bundle or by the City Cord.  Each bundle has about 7 quarter split logs (12″ is .50 cubic feet each, 16″ is .75 cubic feet each and the 24″ is 1 cubic foot each).    We offer a quantity discount called a "City Cord".   A city cord is 15 bundles of any of our wood (must order the same size in that quantity).
Our delivery service can arrange a curbside delivery or a "White Glove Delivery" to your door.  
To order firewood now, call us at 646-872-3991 or you can order online by clicking here:
What is a cord of firewood?  A cord is a stack of quarter split lots approx. 18″ long in a 4'x4'x8′ or 128 cubic feet.  A face cord is 4'x18″x8′ or 48 cubic feet.  
For more information about NYS firewood laws, please visit this NYSDEC website here:
For delivery, please see delivery category- available for curbside or "white glove" delivery service in NYC.
For assistance or to place a custom order, please contact: Orders@UrbanGardenNYC.com
Shipping is available for most items upon request.